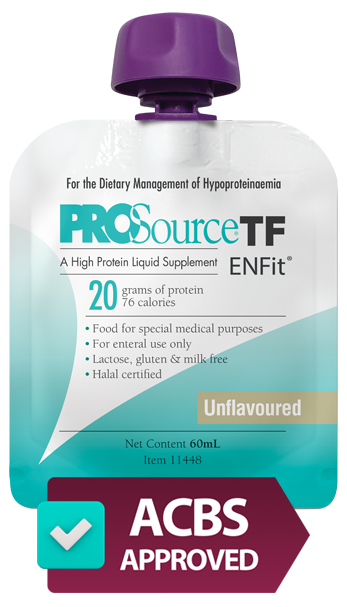 ProSource TF ENFit
Designed specifically with both patient and the health professional in mind, NEW ProSource TF ENFit delivers 20 grams of high quality protein to the patient's feeding tube via one simple, safe connection.
An unrivalled amino acid profile that guarantees you are giving your compromised patients the most effective protein, coupled with a delivery system which saves on both nursing time and costs, makes ProSource TF ENFit the ideal protein to use with your enterally fed patients.
Click here to view the product brochure.
Product introduction video
Product Features & Benefits
Unique ENFit compatible pouch
One simple, safe connection which saves on nursing time and ancillary costs.
20g TF protein in just 60ml volume
High protein, low volume and calories.
Unrivalled essential amino acid profile
Closely matching the IOM pattern for an ideal protein.
Unrivalled branch chain amino acid profile.
Very low in electrolytes
Suitable for numerous patient groups.
Halal certified
PDCAAS: 100%
Guarantees the effectiveness of the protein given.
Administration, Dosage & Directions for use
The dosage of ProSource TF ENFit should be determined by a clinician or dietitian and is dependent on the age, body weight and medical condition of the patient.
Indications
For the dietary management of conditions requiring supplementation with protein.
Precautions & Contra-indications
Must only be used under strict medical supervision. For enteral use only. Not suitable as a sole source of nutrition. Not recommended for children under 3 years of age. May not be suitable for vegetarians and other groups due to processing of some of the ingredients. CONTAINS BEEF DERIVATIVES..
Shelf Life & Storage
ProSource TF ENFit has a shelf life of 18 months from date of manufacture. Store unopened at room temperature (not exceeding 25oC). Once opened, consume immediately.
Pack Size & Ordering
ProSource TF ENFit is available in packs of 50 x 60ml pouches.

Click here to view product codes and prices