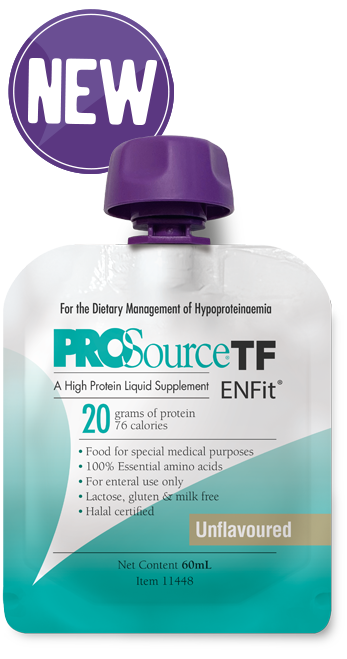 ProSource TF ENFit
Designed specifically with both patient and the health professional in mind, NEW ProSource TF ENFit delivers 20 grams of high quality protein to the patient's feeding tube via one simple, safe connection.
An unrivalled amino acid profile that guarantees you are giving your compromised patients the most effective protein, coupled with a delivery system which saves on both nursing time and costs, makes ProSource TF ENFit the ideal protein to use with your enterally fed patients.
Click here to view the product brochure.
Product introduction video
When to Use ProSource TF ENFit?
ProSource TF ENFit's unique formulation combining 20g protein, less than 1g carbohydrate and a 'water like' consistency in just 60ml of liquid make it ideal to use when you need to increase the protein intake of patients being enterally tube fed without increasing their carbohydrates or volume; or changing their required enteral feed. Simply connect and squeeze to deliver 20 grams of protein directly into your patient's enteral feeding tube.
Typical conditions where increased protein may be required, or where volume may be an issue include:
In ITU / ICU
Renal Dialysis
Cancer Cachexia
Liver Disease
Pressure Ulcers
Burns & Post surgery (e.g. for wound care)
Elderly Malnutrition
Post Bariatric Surgery

Directions for Use
ProSource TF ENFit is a ready-to-use liquid and can be administered via an enteral feeding tube without the need for pre-mixing.
Enteral Tube Feeding – Flush feeding tube. Administer ProSource TF ENFit by directly connecting the pouch to the enteral feeding tube, then squeeze the pouch until empty. ProSource TF ENFit can also be decanted and administered via an enteral feeding syringe if preferred. Once administered, flush tube and then continue enteral tube feeding as prescribed.
Click here to watch just how quick it really is.
IMPORTANT: ProSource TF is for enteral use only.