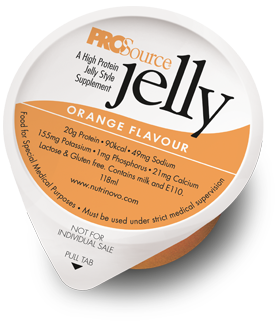 ProSource Jelly
With 20g protein in every 118ml serving, ProSource Jelly is a new and truly unique option in oral nutrition.
Available in Blackcurrant, Lime, Orange and Fruit Punch flavours, ProSource Jelly is ready to eat straight from the cup, tastes great and offers a refreshing alternative to patients who need additional protein without unnecessary volume.
ProSource Jelly contains very low carbohydrate levels, is low in electrolytes and is complete in all essential & non-essential amino acids.
Click here to see which IDDSI level each Nutrinovo product is.
Product introduction video
Useful Downloads
A range of useful support material has been provided to assist you when using ProSource Jelly. Click on the links below to download each item in PDF format.