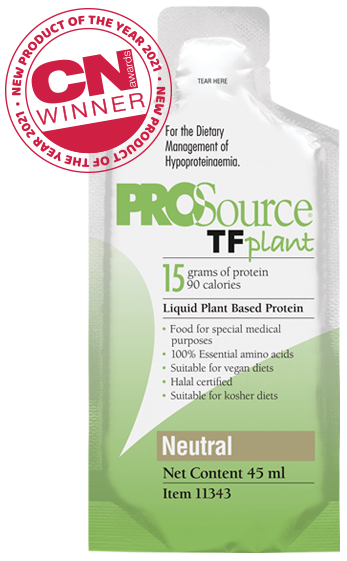 ProSource TF Plant
NEW ProSource TF Plant is a unique plant-based version of the UK's number one liquid protein for enteral feeding, ProSource TF.
Containing 15g protein in each 45ml sachet, ProSource TF Plant uses high biological value pea protein to provide a product that is vegan & vegetarian suitable, water-thin and contains all essential amino acids at levels you would expect from a ProSource product.
This means that you can use ProSource TF Plant as a key part of supporting your enterally fed patients without compromise.
Award Winning: ProSource TF Plant has been voted the 2021 "New Product of the Year" by CN magazines readership.
Click here to view the product brochure or below to view a short video all about the product.
Product introduction video
Useful Downloads
A range of useful support material has been provided to assist you when using ProSource TF Plant. Click on the links below to download each item in PDF format.