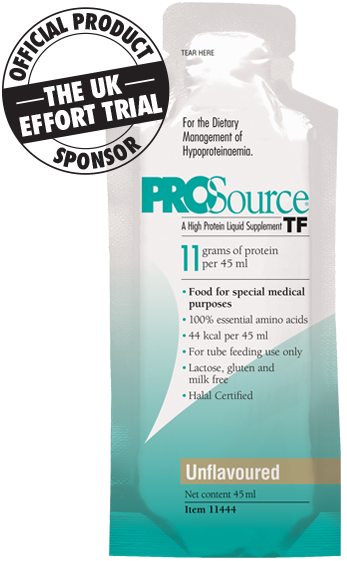 ProSource TF
ProSource TF is a high protein, very low carbohydrate supplement that enables you to increase the protein intake of patients being enterally tube fed without increasing their carbohydrates or volume; or changing their required enteral feed.
Each 45ml sachet of ProSource TF contains 11g protein and only 1g carbohydrates making it ideal when you need to alter the ratio of protein to carbohydrates that are being delivered by their required enteral feed.
ProSource TF is further supplemented with essential amino acids to ensure it has a PDCAAS score of 100.
Click here to view the product brochure or below to view a short video all about the product.
Product introduction video
Useful Downloads
A range of useful support material has been provided to assist you when using ProSource TF. Click on the links below to download each item in PDF format.