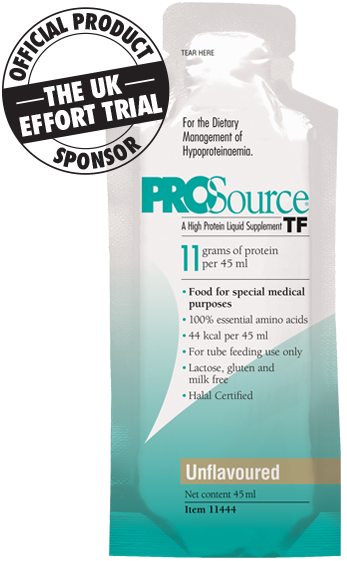 ProSource TF
ProSource TF is a high protein, very low carbohydrate supplement that enables you to increase the protein intake of patients being enterally tube fed without increasing their carbohydrates or volume; or changing their required enteral feed.
Each 45ml sachet of ProSource TF contains 11g protein and only 1g carbohydrates making it ideal when you need to alter the ratio of protein to carbohydrates that are being delivered by their required enteral feed.
ProSource TF is further supplemented with essential amino acids to ensure it has a PDCAAS score of 100.
Click here to view the product brochure or below to view a short video all about the product.
Product introduction video
We use ProSource TF on our critical care wards. It is such a helpful product to enable us to meet protein requirements, whilst providing fewer calories. This is particularly helpful when patients are receiving a lot of calories from Propofol.
Dietitian
- North England
Great product for my renal patients, from both a protein and fluid perspective.
Dietitian
- South East England
The addition of ProSource TF (both standard and Plant) to your range of products has enabled me to support community home enteral feeding patients, meeting their nutrition and hydration requirements. Without these products, it would be extremely challenging to do so. Thank you.
Dietitian
- South West England
A real fan of ProSource, especially ProSource TF for our tube fed patients. I often need to use a low energy, easy to administer protein supplement and this is a winner for me!
Dietitian
- South West England
ProSource TF has become a "game changer" since we implemented it's use on our intensive care unit. We are now more confidently meeting protein requirements in our patients who are at an increased vulnerability of not meeting this with standard feed compositions.
Specialist Dietitian
- Central England