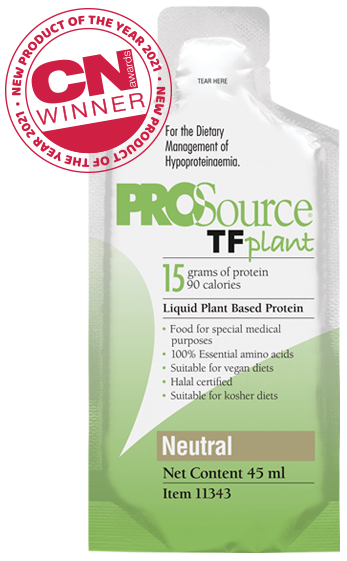 ProSource TF Plant
NEW ProSource TF Plant is a unique plant-based version of the UK's number one liquid protein for enteral feeding, ProSource TF.
Containing 15g protein in each 45ml sachet, ProSource TF Plant uses high biological value pea protein to provide a product that is vegan & vegetarian suitable, water-thin and contains all essential amino acids at levels you would expect from a ProSource product.
This means that you can use ProSource TF Plant as a key part of supporting your enterally fed patients without compromise.
Award Winning: ProSource TF Plant has been voted the 2021 "New Product of the Year" by CN magazines readership.
Click here to view the product brochure or below to view a short video all about the product.
Product introduction video
Product Features & Benefits
15g protein in each 45ml sachet
Ideal for patients with protein energy malnutrition and /or on a fluid restricted diet e.g. ICU, wounds, pressure sores, burns, renal disease, oncology, liver disease, bariatrics and the elderly malnourished
Completely plant based
Suitable for patients requiring a vegan or vegetarian diet. Halal certified and kosher suitable
Contains high biological value pea protein
A complete protein source that contains ALL the essential amino acids at levels you would expect from a ProSource product
Protein is hydrolysed
Hydrolysis breaks down the amino acid chain lengths, which aids gut absorption. ProSource TF Plant behaves as a semi-elemental product
Ready to use liquid with 'water-like' consistency
No pre-mixing is required. The product is ideal for use in enteral feeding tubes as will not cause tube blockages.
Note: We always recommend flushing the patient's feeding tube with water pre and post administration of ProSource TF Plant
Single use sterile sachets
Easy for patients to use and health professionals to administer, whilst assisting with infection control. Can be easily poured directly into a 60ml enteral syringe. Click here to view administration guidelines
Low electrolytes
Allows the product to be used with confidence when supporting patients requiring low electrolyte levels, such as those on renal replacement therapy
Administration, Dosage & Directions for use
ProSource TF Plant should be administered by a clinician or dietitian and dosage is dependent on the age, body weight and medical condition of the patient. Click here to view our ProSource TF Plant enteral administration guidelines
Indications
For the dietary management of conditions requiring supplementation with protein.
Precautions & Contra-indications
Must only be used under strict medical supervision. For enteral use only. Not suitable as a sole source of nutrition. Not recommended for children under 3 years of age.
Shelf Life & Storage
ProSource TF Plant has a shelf life of 18 months from date of manufacture. Store unopened at room temperature (not exceeding 25oC). Once opened, consume immediately.
Pack Size & Ordering
ProSource TF Plant is available in packs of 50 x 45ml sachets

Click here to view product codes and prices