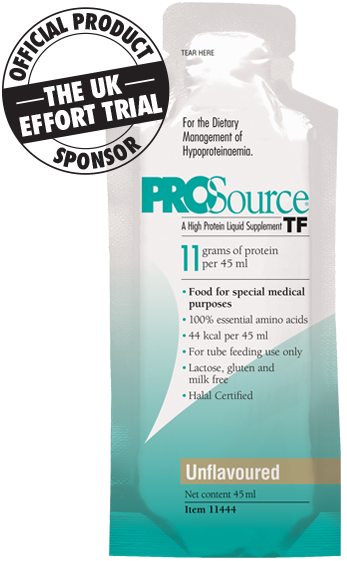 ProSource TF
ProSource TF is a high protein, very low carbohydrate supplement that enables you to increase the protein intake of patients being enterally tube fed without increasing their carbohydrates or volume; or changing their required enteral feed.
Each 45ml sachet of ProSource TF contains 11g protein and only 1g carbohydrates making it ideal when you need to alter the ratio of protein to carbohydrates that are being delivered by their required enteral feed.
ProSource TF is further supplemented with essential amino acids to ensure it has a PDCAAS score of 100.
Click here to view the product brochure or below to view a short video all about the product.
Product introduction video
Product Features & Benefits
11g protein in each 45ml sachet
Ideal for protein energy malnutrition and patients on a fluid restricted diet e.g. wounds, pressure sores, burns, renal disease, oncology, liver disease, bariatrics and elderly malnourished
Ready to use liquid with 'water like' consistency
No pre-mixing is required and is ideal for use with enteral feeding tubes as will not cause tube blockage*
*Note: We always recommend flushing the patient's feeding tube with water pre and post administration of ProSource TF
Single use sterile sachets
Easy for patients to use and health professionals to administer, whilst assisting with infection control. Can be easily poured directly into a 60ml syringe. Click here to view administration guidelines
Uses hydrolysed collagen
Hydrolysis breaks down proteins into smaller peptides, which aids gut absorption
A complete protein
ProSource TF is complete in all essential amino acids at levels high enough to ensure quality
Isotonic osmolality
ProSource TF has an osmolality level of 380 mOsm/kg water, making it close to isotonic, thus helping to improve patient tolerance
ACBS approved
ACBS approved for Hypoproteineamia – widely prescribed and reimbursed within the community
Lactose, gluten & milk free
Can be used with a wide range of dietary requirements, free from all 14 allergens, Halal certified and Kosher suitable
Administration, Dosage & Directions for use
ProSource TF should be administered by a clinician or dietitian and dosage is dependent on the age, body weight and medical condition of the patient. Click hereto view our ProSource TF enteral administration guidelines
Indications
For the dietary management of conditions requiring supplementation with protein.
Precautions & Contra-indications
Must only be used under strict medical supervision. For enteral use only. Not suitable as a sole source of nutrition. Not recommended for children under 3 years of age. May not be suitable for vegetarians and other groups due to processing of some of the ingredients. Contains beef derivatives.
Shelf Life & Storage
ProSource TF has a shelf life of 18 months from date of manufacture. Store unopened at room temperature (not exceeding 25oC). Once opened, consume immediately.
Pack Size & Ordering
ProSource TF is available in packs of 100 x 45ml sachets

Click here to view product codes and prices