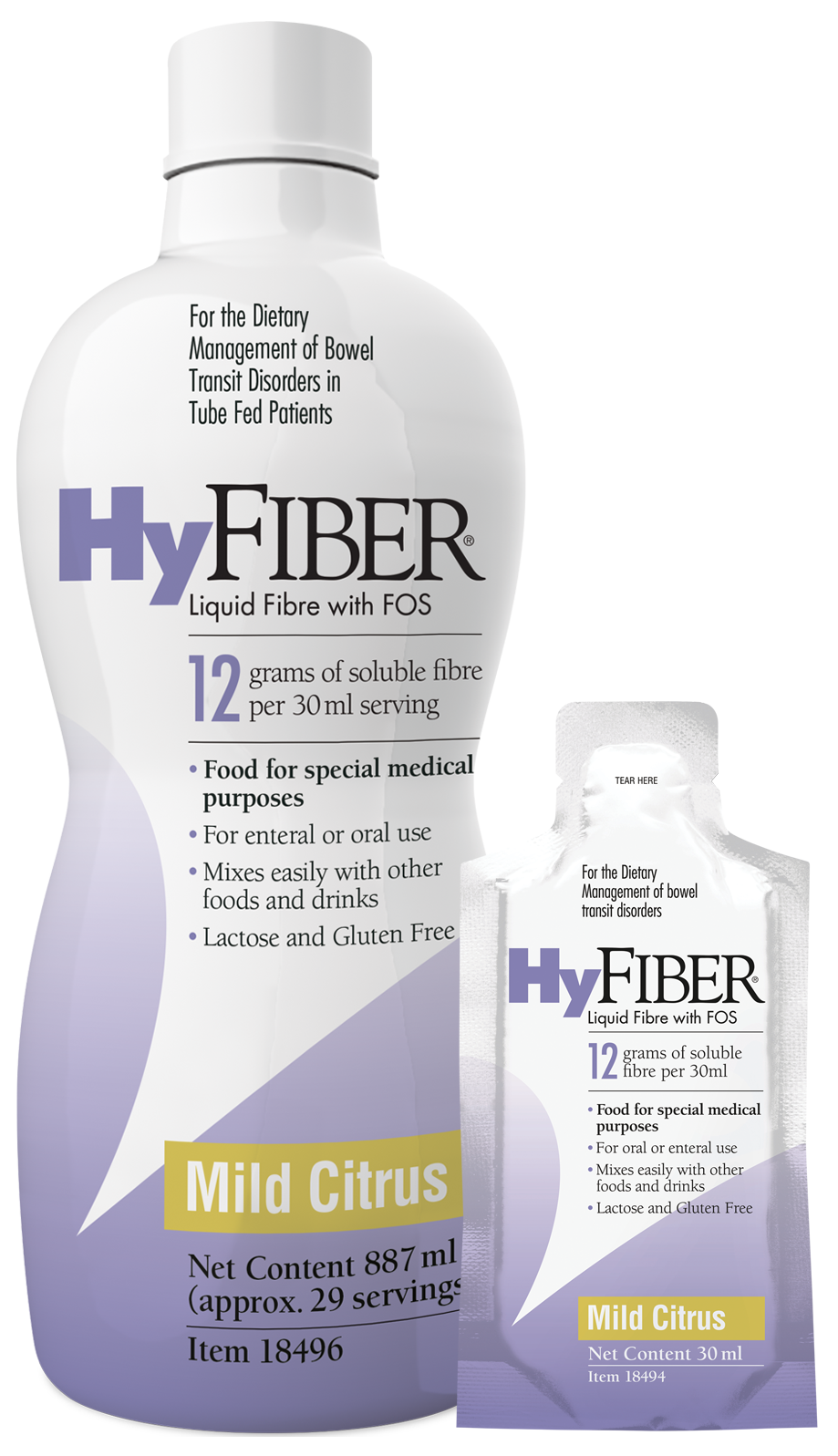 HyFIBER
HyFIBER is a low volume, liquid fibre supplement containing 12g soluble fibre in each 30ml – this is made up of 10.3g from polydextrose and 1.7g from fructooligosaccharides (FOS). Presented in a mild citrus flavour, HyFIBER is suitable for the dietary management of bowel transit disorders. HyFIBER is ready to use and can be taken orally without the need for pre-mixing; or administered via an enteral feeding tube.
HyFIBER is now ACBS approved for oral and enteral use!
Click here to see which IDDSI level each Nutrinovo product is.
Click here to view the product brochure or below to view a short video all about the product.
Product introduction video
We have been using HyFIBER with our tube-fed patients, who have been having issues with their bowels. We have seen that HyFIBER has been really useful and is easy for our patients to use.
Community Dietitian
- North West England
I have amazing feedback on HyFIBER, not only on acute setting, but also my patients with functional bowel problems( IBS-c). They find HyFIBER the only prebiotic that they can tolerate, without any side effect. Their bowels become regular for the first time in many years, after previously trying different laxatives, fibre and Movicol.
Dietitian
- South West England
HyFIBER has been an absolutely fantastic product to use with my learning disability patients to treat constipation, I have had success with numerous patients who have had poor response to laxatives for years, or who have refused Laxido or Movicol due to the taste and volume. Thank you!
Dietitian
- Central Scotland
I tend to use a lot of the HyFIBER for patients with IBS who are struggling to increase their intake of soluble fibre, I have had great results with this.
Dietitian
- North West England
HyFIBER is possibly the best supplement available in recent years. Used as a stand-alone fibre supplement or alongside laxatives, this has massively helped to promote regular, predictable, softer stools in my patient groups. The taste and viscosity is great, and manageable for a lot of patient groups being a 30ml dosage; I use it mostly with children, with selective eating and small appetites (+/- dysphagia) when adequate fibre has not been possible to acquire though diet alone. I also use HyFIBER in tube feeds, particularly when the feed used doesn't contain fibre. For many children this has eliminated the need for laxatives, for others, laxatives have been reduced. Knowing that this has been achieved by a natural method and promotes my patient's microbiome is reassuring.
Community Paediatric Dietitian
- Central England