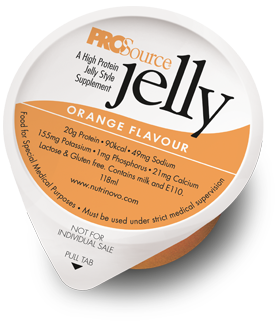 ProSource Jelly
With 20g protein in every 118ml serving, ProSource Jelly is a new and truly unique option in oral nutrition.
Available in Blackcurrant, Lime, Orange and Fruit Punch flavours, ProSource Jelly is ready to eat straight from the cup, tastes great and offers a refreshing alternative to patients who need additional protein without unnecessary volume.
ProSource Jelly contains very low carbohydrate levels, is low in electrolytes and is complete in all essential & non-essential amino acids.
Click here to see which IDDSI level each Nutrinovo product is.
Product introduction video
ProSource Jelly – Great tasting product. Small volume and an appetising way to achieve 20g protein and 90kcal intake.
Renal Dietitian
- South West England
ProSource Jelly really helps skin healing in people with significant pressure sores. Not only is it a small, manageable supplement that's high in protein but it tastes great, meaning I rarely have tolerance issues when asking my patients to take it.
Dietitian
- Northern England
The addition of ProSource Jelly to your range of products has enabled me to support community patients, to meet their nutrition and hydration requirements. Without this product, it would be extremely challenging to do so.
Community Dietitian
- South West England
ProSource Jelly is amazing for our overweight patients with pressure areas, they contain reduced calories compared to all of the alternative supplements we offer at the hospital. We often use ProSource Jelly and the patients really enjoy them.
Dietitian
- South East England
Prosource Jelly is an excellent nutritional supplement & I've found it particularly useful for renal dialysis patients as its high in protein, low volume & has low electrolyte levels. My patients particularly enjoy the Blackcurrant flavour.
Renal Dietitian
- North West England