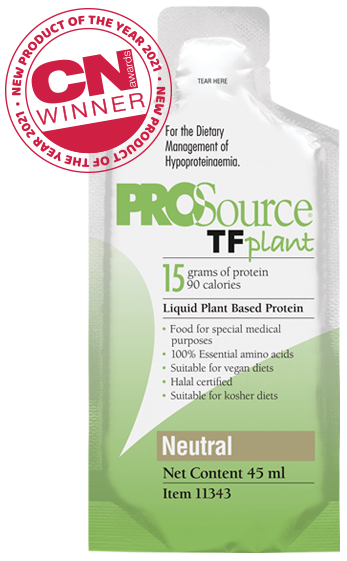 ProSource TF Plant
NEW ProSource TF Plant is a unique plant-based version of the UK's number one liquid protein for enteral feeding, ProSource TF.
Containing 15g protein in each 45ml sachet, ProSource TF Plant uses high biological value pea protein to provide a product that is vegan & vegetarian suitable, water-thin and contains all essential amino acids at levels you would expect from a ProSource product.
This means that you can use ProSource TF Plant as a key part of supporting your enterally fed patients without compromise.
Award Winning: ProSource TF Plant has been voted the 2021 "New Product of the Year" by CN magazines readership.
Click here to view the product brochure or below to view a short video all about the product.
Product introduction video
ProSource TF Plant is helpful for the ever-increasing vegan patient group, who need extra protein but limited carbohydrates.
Dietitian
- South Central England
Nutrinovo offers some unique products. I love the new plant-based protein product, forward thinking & all-encompassing of our patients opting for a plant-based diet!
Dietitian
- North East England
We had a patient with a milk allergy on ICU, the soya-based feed only met a small percentage of his protein requirements. Your new plant-based product (ProSource TF Plant) would have been ideal for him and I would have definitely used it. It will also be useful for our patients who follow a vegan diet.
Dietitian
- North West England
ProSource TF Plant will be very useful, as many my patients are vegetarian or vegan. I found that it is even palatable if mixed with food. I had few patients who agreed to continue taking it orally after their NG feed was stopped, in order to meet their protein requirements after surgery. Many thanks for your wonderful products.
Dietitian
- South West England