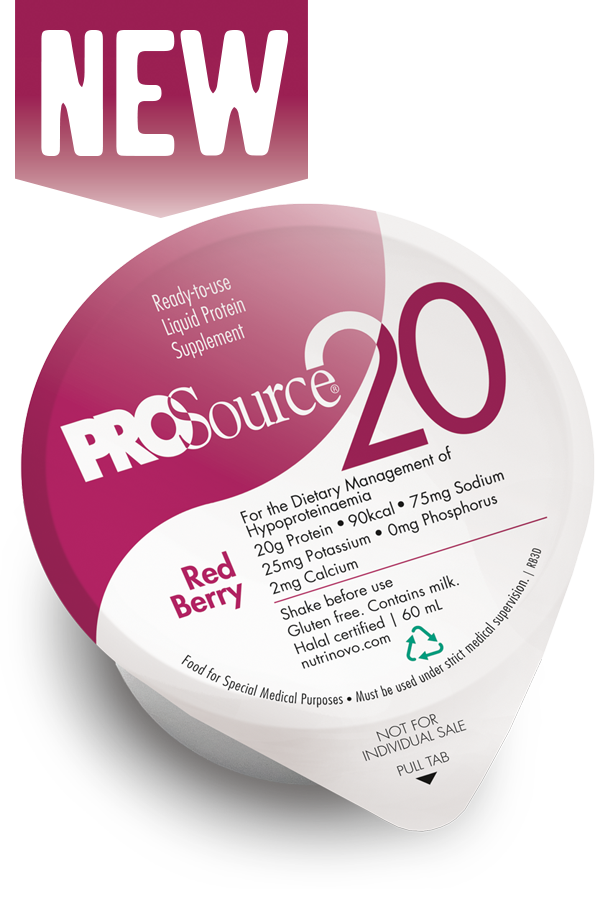 ProSource 20
ProSource 20 is a new generation modular supplement containing 20g of a unique protein, that delivers on average over 50% more essential amino acids (EAA)* than flavoured protein shot-type products, without compromising on taste.
Presented in a versatile 60ml recyclable cup, ProSource 20 uses 77% less plastic than a typical 60ml plastic shot bottle.
Available in a great tasting red berry flavour and with a consistency similar to water, ProSource 20 is easy to take orally straight from the cup.
Furthermore, the consistency means that the product can be administered enterally without any need for pre-mixing or decanting.
Product introduction video
Product Features & Benefits
20g protein in just 60ml volume
Enables the delivery of high protein, low volume and low calories.
Recyclable cup – uses 77% less plastic than a 60ml plastic shot bottle**
More environmentally friendly than 60ml plastic shot bottles.
On average, over 50% more EAA than flavoured protein shot-type products*
Research shows that the EAA content of protein is associated with the stimulation of muscle and whole-body protein synthesis.1
Low electrolytes
Suitable for patients with electrolyte restrictions, such as certain renal patients.
Oral or enteral use without decanting or pre-mixing
Offers a one size fits all option and allows for easy use as either an oral supplement, or tube feed.
Halal certified
Suitable for patients requiring a halal diet
.
*Per gram of protein
**Based on average 60ml shot bottle weight of 18.2g and ProSource 20 cup weight of 4.1g
1. Church DD et al. Nutrients. 2020;12(12):3717
Administration, Dosage & Directions for use
The dosage of ProSource 20 should be determined by a clinician or dietitian and is dependent on the age, body weight and medical condition of the patient.
Indications
For the dietary management of conditions requiring supplementation with protein.
Precautions & Contra-indications
Must only be used under strict medical supervision. For enteral use only. Not suitable as a sole source of nutrition. Not recommended for children under 3 years of age. May not be suitable for vegetarians and other groups due to processing of some of the ingredients. CONTAINS BEEF DERIVATIVES.
Shelf Life & Storage
ProSource 20 has a shelf life of 18 months from date of manufacture. Store unopened at room temperature (not exceeding 25oC). Once opened, consume immediately.
Pack Size & Ordering
ProSource 20 is available in packs of 36 x cups. Click here to view product codes and prices.