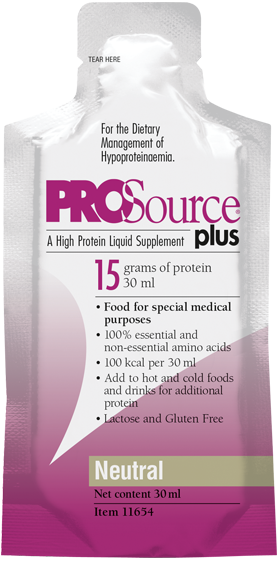 ProSource Plus
Available in neutral and two great tasting flavours – Orange Crème and Citrus Berry and presented in ready to use 30ml sachets, flavoured ProSource Plus can be taken as a 'shot' or enjoyed as a drink; whilst ProSource Plus Neutral can be added directly to a patients meal, drink or sip feed – without any of the complications associated with powdered or higher volume sip feeds. ProSource Plus can be administered via a tube feed when mixed with 30ml water.
Click here to see which IDDSI level each Nutrinovo product is.
P.S. All flavours of ProSource Plus are now available in a smaller 50 case size…
Product introduction video
My patients really enjoy ProSource Plus – Citrus Berry flavour. Patients are very grateful for the option of a high protein, low carbohydrate supplement.
Dietitian
- Central England
I love the ProSource products, they really help my liver patients meet their high protein requirements. They are very palatable and my patients find the products easy to tolerate.
Dietitian
- South East England
I love ProSource as an additional product for my patients. I use it for post-op bariatric patients, who struggle to meet protein requirements. Also, with UGI cancer patients post-surgery, who need extra protein but without the carbohydrate load.
Dietitian
- South Central England
I've used your products since becoming aware of ProSource around 2008, they work really well in surgical and oncology patients. Interestingly I've also found that they also work well in care homes, as a modular supplement.
Dietitian
- North East England